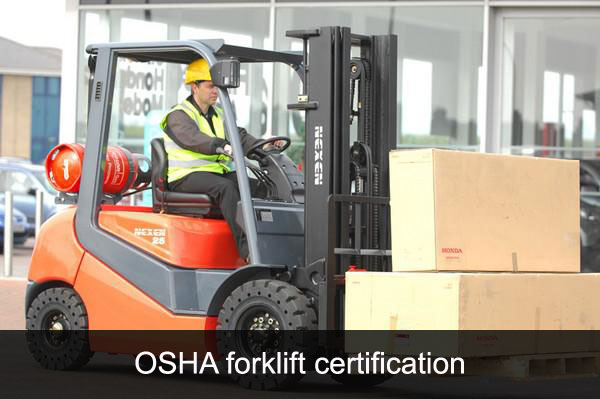 Our Forklift operator training and Forklift Certification course makes the forklift operators or FLT operators aware of risk and hazards associated with forklift or lift truck operations, legal responsibilities of forklift operator and provides the required knowledge to become the competent forklift / lift truck operator.
About the Online Forklift Certification Training
Industrial lifting trucks like Pallet trucks, Forklift trucks, Counterbalanced trucks High or Low lift trucks etc. are being used by forklift operators across the globe. In most of the countries to operate a forklift truck you must be certified. This online certification course involves 4-5 hours of interactive topic presentation and after study completion online final exam. The forklift certification training exam consists of MCQ type of questions to answer. If you score the passing marks in the online exam you'll get access to download your course completion certificate immediately.
Who is forklift operator?
A forklift operator is a certified professional who is responsible to safely operate forklift trucks for transporting heavy loads. He works under the supervision of his floor manager, supervisor or foreman at the workplace or construction site. The forklift operator is required by most of the workplaces to lift or move heavy material.
What is forklift operator certification training?
In US, Australia, Canada this is required by the Occupational Safety Health Administration (OSHA) to operate forklift or lift truck by a certified forklift operator only. Forklift operator certification training is mandatory to reduce number of accidents or incidents due to unsafe forklift operation in the workplace. Occupational Health and Safety Act 1970 also mentions that you must obtain a professional training to safely operate forklift machines.
Why is forklift operator certification training important?
Forklifts, Lift trucks or Powered industrial trucks are being used across the industries or workplaces to lift or move the heavy loads in United States, Canada, Australia and other countries. Since heavy and large load is involved in the forklift operations, importance of health and safety is a great concern of the forklift operators and other employees. A well trained and certified operator helps reduce the chances of any accident or incidents at the workplace either its warehouse, storage or construction site.
Why should I have forklift certification to operate Forklift?
The Occupational Health and Safety Act 1970 mentions that for a safe and healthful workplaces and to comply with the law only trained and certified forklift operator should be allowed to operate a forklift in the workplace. So for betterment of your current forklift operator job or to apply for new job you would require to present your forklift operator certificate to the employer.
Don't search for "forklift training near me" or "forklift certification near me" as being one of the top online forklift certification provider we have our presence globally.

Enroll Now for $25
Benefits of the Course:
At the end of this course, participant should be able to demonstrate understanding of the content through application of knowledge to familiar and unfamiliar situations. In particular, they should be able to:
Demonstrate the fundamental factors of forklift.
Outline the responsibility to operate the equipment safely.
Describe the national and international regulation and standards related to forklift operation.
Demonstrate the related hazards and risk on forklift operation.
Control the risk factors and site related issues.
Outline the pre-operation procedures.
Describe the maintaining and servicing procedures.
Demonstrate the safe operation guidelines.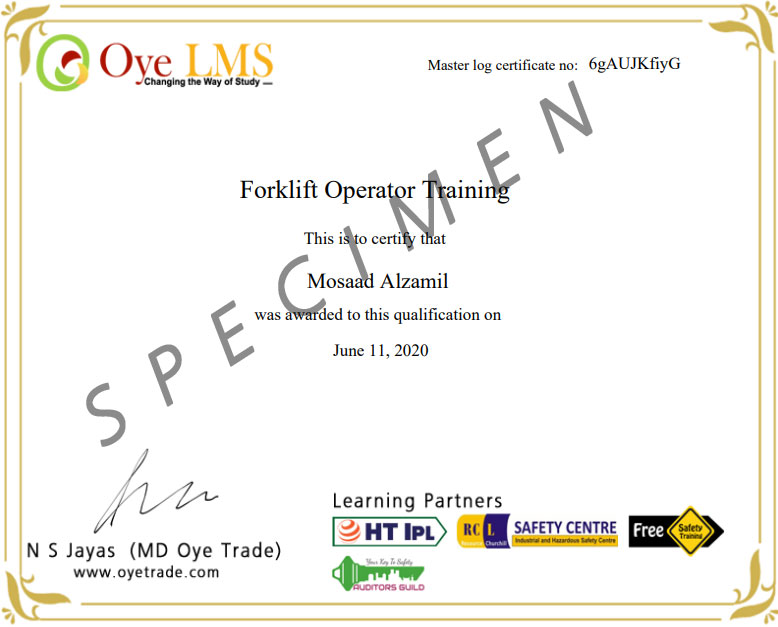 Types of Equipment you will be able to operate after the training completion:
Class 1: Electric Motor Rider Trucks
Class 2: Electric Motor Narrow Aisle Trucks
Class 3: Electric Motor Hand Trucks or Hand/Rider Trucks
Class 4: Internal Combustion Engine Trucks (Solid/Cushion Tires)
Class 5: Internal Combustion Engine Trucks (Pneumatic Tires)
Class 6: Electric and Internal Combustion Engine Tractors
Class 7: Rough Terrain Forklift Trucks
The Forklift Certification course covers the following topics:
Introduction and Regulations
Purpose of the Forklift Operator Training
Hazards and Risk Prevention
Understand how forklifts work
How to Operate a forklift safely and skillfully
Identify FLT operating hazards
Apply general principles of safe operation
Inspection and maintenanec of the forklift
Classification of Forklifts
Forklift Operation manual
Refueling and charging of Forklift
Stability of Forklift or Powered Industrial Trucks
Forklift Stability Triangle
Risk management on forklift
Common forklift hazards
Route plan
Training for forklift operators
Forklift pre-operation checks
Forklift load assessments
Common safety practices
Forklift traffic control