Oye Trade is passionate digital marketing team with skills in Marketing, Creativity and Technology to deliver great digital marketing solution for our valued customers. Our digital marketing team is fully leveraging digital advancement to add value to customers, Customer centric approach, Professional approach and transparent working.
"COMBINING CREATIVITY & INNOVATION DIGITALLY"
Our mission is to be recognized as a the 'best partner' for our customers by helping them achieve business goals through amalgamation of creativity, technology and innovation. Oye Trade is a fusion of CREATIVITY, INNOVATION AND TECHNOLOGY. We are also a learning company and we know that learning comes through customers, competition and environment a complete ecosystem for digital marketing.
Key objectives for every digital marketing campaign would be:
Brand building
lead generation
Our approach for Digital Marketing Campaign
Digital marketing PLAN
It includes marketplace review, setting objectives, Create digital marketing strategy, and implement & manage digital marketing communications.
Digital marketing REACH
Digital marketing REACH involves Building brand, product and services awareness on other websites, portals, social media, blogs to get targeted visitor traffic to our website, microsite, blog, or social media pages. Digital marketing REACH involves various activities including:
Search Engine Optimization (SEO) -

Keyword research, Competitive research, Reporting and goal setting, digital content development, website page optimization, Link Building, traffic monitoring.

Social media marketing
Digital media campaign publishing on various external websites
Content marketing –

Sample study material, Course brochure, booklet, catalogue, writing blog posts, participating in forums, Demo Videos, Infographics.

email campaign -

Prepare email database (Job sites, social media, newsletter signup, website enquiries received, ex-trainees), Select email marketing provider or software, Website newsletter signup, Email content writing

reference, affiliate and partner marketing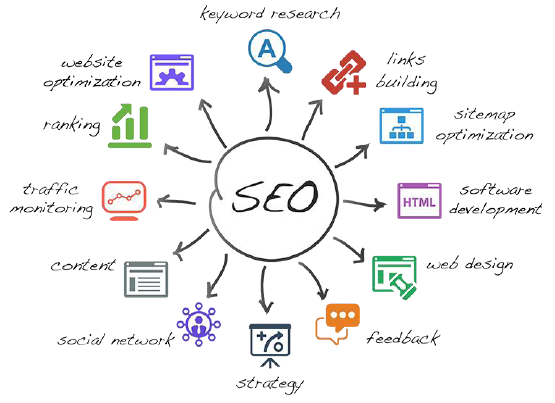 Excellent service and support!! Narendra and his team worked hard and honestly to design & develop our website and NEBOSH IGC e-learning.
-Shahid Javed (Managing Director)
Wanco Services (Saudi Arabia)